Welcome to Sharon and Gramma Susie's online home!


Keep an eye on Sharon's Facebook page or Susie and Charlie's Facebook page to see where she will show up next!
Sharon and Gramma Susie were at 2019 Toronto International Storytelling Festival. See photos on Facebook.
Sharon was the facilitator at an evening addressing reconciliation and residential school. Here's CBC North coverage of her own story. See the panel discussion on CBC here.
Gramma Susie and Cash Creek Charlie in Carcross at the First Nations Learning Centre in July 2018.
Sharon was the Aboriginal Storyteller-in-Residence at Vancouver Public Library in 2015 and appeared at Hapapalooza in Vancouver. Here's CBC North coverage of her appointment.

Sharon writes about her "status" in a recent Up Here article.

There's a Facebook fan page for Gramma Susie and Charlie
Be sure to visit and become a fan!

See a Gramma Susie video clip from a performance at the Alaska Native Heritage Center in Anchorage.


"It's an honour..." Hear Sharon on CBC Northbeat talk about the role of humour and her participation at the Truth and Reconciliation Commission National Event.

Hear Susie and Charlie talk life in the Yukon in a video presented at the 2010 Vancouver Olympics.


Gunalcheesh!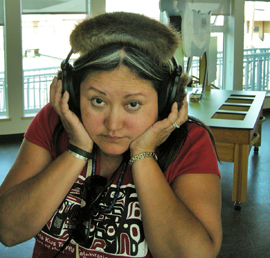 Photos for media use can be found on the
Contact Information
page