Duane Ghastant' Aucoin Biography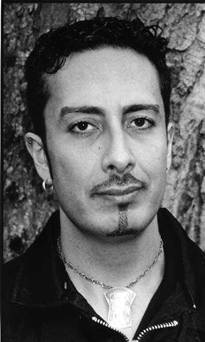 Duane Ghastant' Aucoin is a Wolf/Yanyedi member of the Teslin Tlingit Council and recently returned home from Vancouver, BC.

He received training from his elders as the lead singer/drummer/dancer for the Deslin Khwan Dancers in the Yukon and has performed with them throughout Canada and the US since 1996.

Aucoin received formal schooling in the First Nation Theatre Training taught by nationally acclaimed director Carol Grey-Eyes. He is currently performing "Cash Creek Charlie" along with Sharon Gramma Susie" Shorty in the stand-up comedy routine "Susie & Charlie". He has also starred in the First Nation's Theatre Production "Raven's Tale" in Whitehorse, Yukon, which he also co-wrote and directed. This was featured on APTN's NEDAA.

Aucoin produced/directed/wrote/starred in "Kichx Anagaat Yatx'i: Children of the Rainbow," a celebration of two-Spirited peoples that integrated both live and digital video pieces into one 90-minute production. The world premiere was at the 2003 Out On Screen Queer Film & Video Festival in Vancouver. It won the top award of "Audience Favorite for Best Feature". It has played at various venues across the country and has received much acclaim and publicity.

Aucoin won the 2003 XtraWest's Community Achievement Award for Achievement in the Arts for Children on the Rainbow.
He was also a nominee for the 2003 Vancouver Entrepreneur of the Year, "Education" Category.

Aucoin recently was the associate producer for the Our City Our Voices Project with the National Film Board of Canada, a Storyscapes Project designed by Kamala Todd.
He is currently the Assistant Director/Artistic Director for the Teslin Tlingit Heritage Centre in Teslin, Yukon, as well as the Yukon Aboriginal Liaison for the NFB.
Aucoin can be reached at dga@northwestel.net